Bio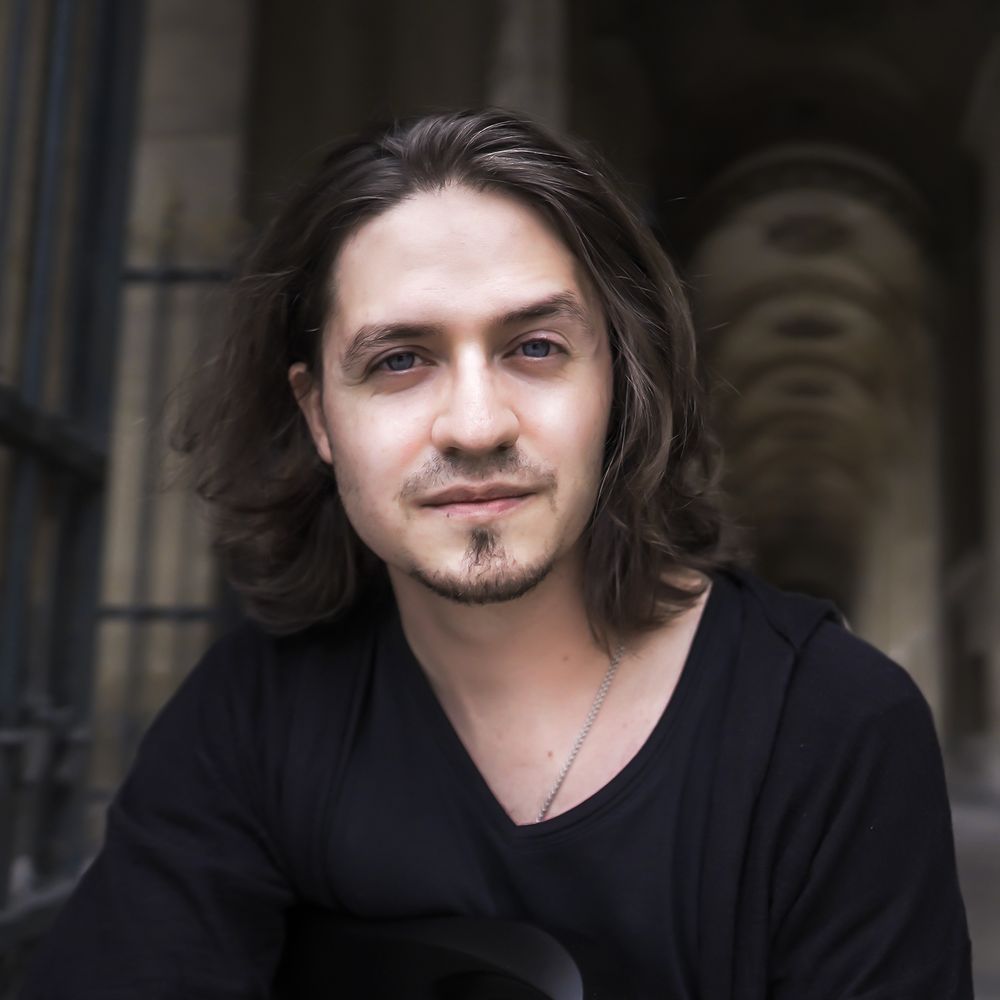 French-Ukrainian guitarist and composer
Roman Rouzine is a French-Ukrainian guitarist, born in Dnipro, a city located in the Eastern part of Ukraine. He gives guitar lessons in the great and well known french school of current musics «Tous en Scène» after joining the education team ten years ago.

Soon, Roman's virtuosity on the electric guitar and his melodic sense are noticed by the professionals of the music sphere, especially the guitar one. As a result, he worked almost 5 years for the famous magazine «Guitar Part» where he did around 40 articles and appeared in many DVDs about guitar playing technique, virtuosity on the instrument and classical performances. In the mean time, Roman signed his first endorsement contracts with prestigious brands which are still insuring him a steady and long term support and a great recognition of his work. (Ibanez, Skull Strings, SP Custom, Two Notes & Arobas Music)
Influenced by Patrick Rondat, Stephan Forté, David Garrett, Junkie XL and even Hans Zimmer, Roman develops his carreer in the neoclassical style, on the boundary between modern rock and orchestral music. A rich universe, sometimes dark, with a mastered technique serving the melody and the emotions. His playing is strongly marked by the quality of his vibrato, the expressiveness of his «bends» and his use of ranges with singular colors.

He already has a wide discography : a solo EP released in 2008 entitled «The Tragic Circle», a solo album released in 2014 entitled «Genesis of Delirium», an album with the band Opus Doria released in 2016 entitled «The Compass Rose» and many other performances as a guest on other bands' albums (Franck Graziano, Guitar Addiction 2, Last Avenue...).
Roman had the great pleasure to give concerts in many places in France with his band and with the band Opus Doria. In solo, he took part in showcases and masterclasses as well.
"

He's a virtuoso[…]. His guitar playing is breathtaking. Of course this is instrumental music but still, his guitar is definitely lyrical, as if it is composed for a vocal line. Mastery and fluidity."
— TMV MAG
French Version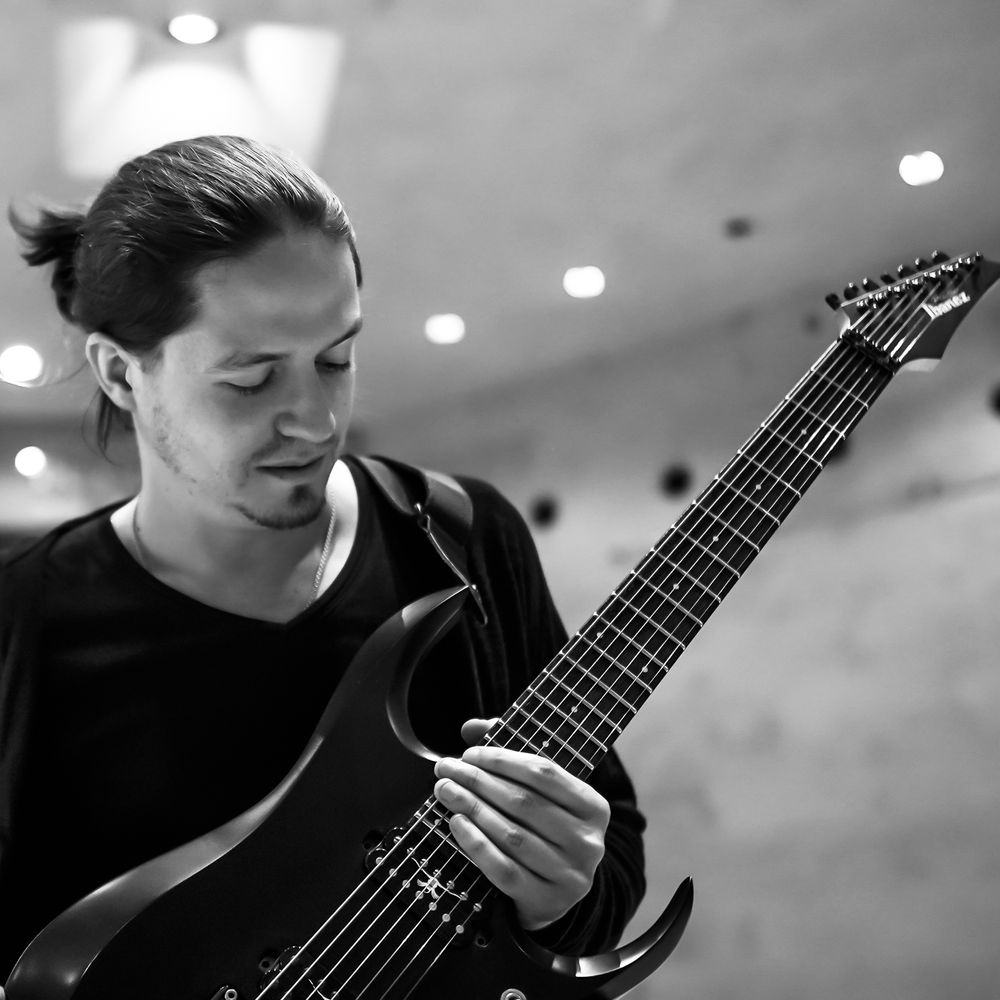 Un guitariste et compositeur franco-ukrainien
Roman Rouzine est un guitariste franco-ukrainien, né dans la ville de Dnipro en Ukraine orientale. Il enseigne la guitare depuis une dizaine d'années dans la réputée école de musiques actuelles tourangelle "Tous en Scène".

Dès le début de sa carrière, Roman est repéré par les professionnels de la musique pour son sens mélodique et sa grande maîtrise de la guitare. C'est ainsi qu'il interviendra pendant près de 5 ans dans le très célèbre magazine "Guitar Part"; il proposera pendant des années, une quarantaine d'articles et tout autant de DVDs traitant de la technique guitaristique, la virtuosité sur l'instrument et l'interprétation classique. Dans le même temps, il signera ses premiers contrats d'endorsement avec des marques prestigieuses qui lui assurent un soutien constant et une reconnaissance de son travail. (Ibanez, Skull Strings, SP Custom, Two Notes & Arobas Music).

Influencé par Patrick Rondat, Stephan Forté, David Garrett, Junkie XL ou encore Hans Zimmer, Roman s'épanouit dans un style néoclassique, à la frontière entre le rock moderne et la musique orchestrale. Un univers riche, parfois sombre, avec une technique maîtrisée au service de la mélodie et des émotions. Son jeu est fortement marqué par la qualité de son vibrato, l'expressivité de ses "bends" et son utilisation des gammes aux couleurs singulières.
Il possède une large discographie, avec un EP solo sorti en 2008 intitulé "The Tragic Circle", un premier album solo sorti en 2014 intitulé "Genesis of Delirium" et un second sorti en 2019 nommé "Humans". Roman a également enregistré un album avec le groupe Opus Doria sorti en 2016 intitulé "The Compass Rose" et possède plusieurs participations en tant qu'invité sur des albums de groupes (Franck Graziano, Guitar Addiction 2, Last Avenue...).
Fort de son expérience, Roman joue aujourd'hui avec son groupe partout en France et propose diverses masterclass.
"

Avec "Humans", Roman Rouzine s'affirme comme un guitariste à la personnalité musicale forte et empreinte d'un univers orchestral et cinématographique très personnel. Par son approche originale de la guitare instrumentale, l'album se dévoile progressivement au fil des écoutes et s'avère une tentative ambitieuse et réussie d'allier classicisme et modernité "
— Music Waves